On a full moon you can understand what beasts are saying, or so they say (okay, I'm saying it now). But it might be that they are just laughing at us.
The last time I posted the full moon, we had a score to settle with a different kind of beast. It's a work in progress.
But two days ago the moon was full again, Snow Moon, they call it. They promised a partial eclipse and a green comet with the purple tail to go with it. First I saw this photo: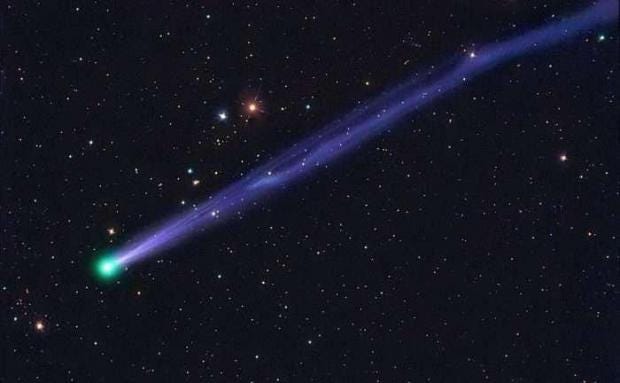 (Source: Independent)
Then I read this (by a FB friend of a friend Bunny P Bunnington):
Good evening citizens.

This is a public service announcement from the Ministry of Fear.

The Hunter's Moon is nothing to fear, trust us, we'd tell you if it was. Any reports you may have heard about the fell moon heralding the coming of the Wolf God Fenrir and his canine army are completely unfounded. And the appearance of an ancient and foreboding comet in the silent night's sky is just a coincidence, nothing more.

On an unrelated note, secret police will be slathering a portion of the population in gravy and meaty chunks while they sleep. The fact that the names of those chosen also appear on a list of known dissidents is also simply a coincidence. In fact it's a gift. It's good for the skin. Trust us, we know a lot about skin.
Suitably hyped I waited for the announced hour, went out (with bestia to feel braver) and kept staring at the sky rather suspiciously for a while. I had failed to learn of the size of this comet in advance… Anyway, the moon was there but the comet was either a no-show or was obscured by all the moonlight.
Just the moon, then, and some vicious beasts of the neighbourhood.
Photo: © signature mmm (except for the damn comet)